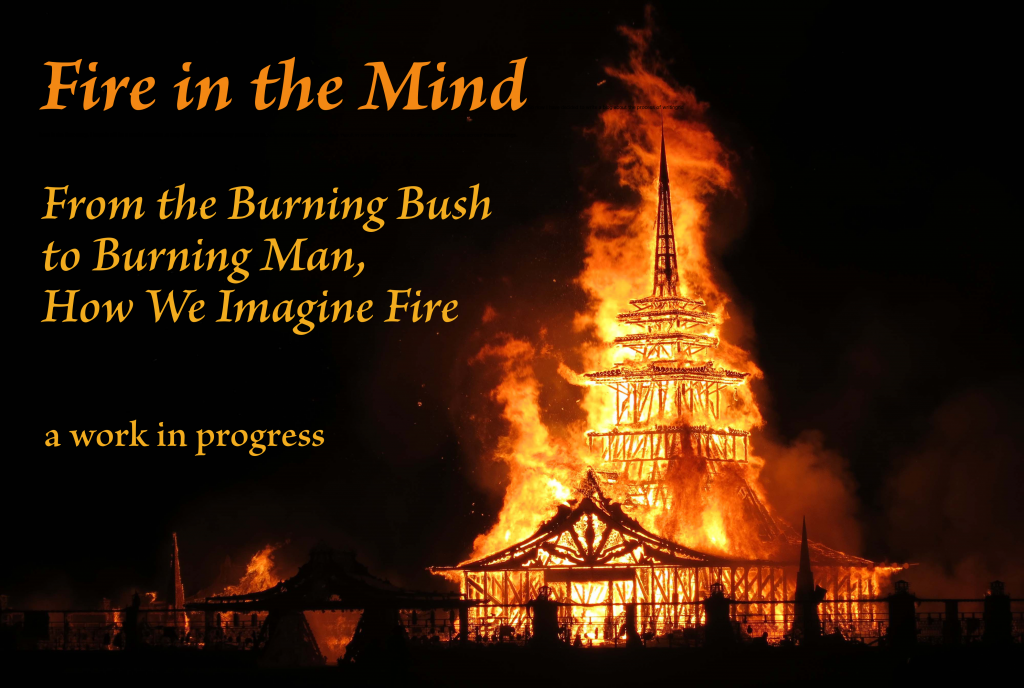 The human species grew up with fire. It was our first technology, and enabled all the others. Its control set us apart, for better or worse, from all other animals. Fire is essential to us––our servant, our teacher, our tool, our companion, at times our nightmare, our engine of ritual, our portal into the great mysteries.
We have imagined fire to be many things: a god, a means to communicate with gods, a root force underlying the universe, an element, a universal metaphor, and many more. That we have imaginations at all developed from the challenge of managing fire, the most complex and demanding social undertaking in which early humans engaged. Though many other changes in genetics, environment, and behavior contributed to the evolution of one line of tree-dwelling African hominins into omnipresent humans, managing fire arguably put the sapiens (wisdom) into Homo sapiens.
This book examines our evolving understanding of the nature of fire, how interaction with it molded us as a species, and how fire burns in our mythologies, philosophies, and rituals.
Chapters in red are those that have been drafted so far.
1 Introduction>
Fire Myths and Mysteries
2 Fiery Beginnings and the Fires of Heaven
3 Fiery Endings 1: the Fires of Hell
4 Fiery Endings 2: Purgatory and Apocalypse
5 Divinities of Fire 1: the Hearth and the Sun
6 Divinities of Fire 2: Volcanoes, Light, and the Forge
7 Gods Speak through Fire––Theophanies
8 Fiery Omens, Miracles, and Signs––Hierophanies
9 Divination with Fire – Omens on Demand
10 Creatures of Fire
Fire Science
11 The Domestication of Fire
12 What Is Fire?
13 Fire and Life
Fire Metaphors, Symbols and Rituals
14 The Universal Metaphor
15 Fire Symbolism
16 Engine of Ritual
17 Eternal Flames
18 New Fire Ceremonies
19 Decline and Rebirth of the Fire Ritual
20 Coda
Fire Myths and Mysteries
2 Fiery Beginnings and the Fires of Heaven
3 Fiery Endings 1: the Fires of Hell
4 Fiery Endings 2: Purgatory and Apocalypse
5 Divinities of Fire 1: the Hearth and the Sun
6 Divinities of Fire 2: Volcanoes, Light, and the Forge
7 Gods Speak through Fire––Theophanies
8 Fiery Omens, Miracles, and Signs––Hierophanies
9 Divination with Fire – Omens on Demand
10 Creatures of Fire
Fire Science
11 The Domestication of Fire
12 What Is Fire?
13 Fire and Life
Fire Metaphors, Symbols and Rituals
14 The Universal Metaphor
15 Fire Symbolism
16 Engine of Ritual
17 Eternal Flames
18 New Fire Ceremonies
19 Decline and Rebirth of the Fire Ritual
20 Coda